Full-time employment with KONAMI Digital Entertainment B.V. from March 2013 to May 2019
Prior to joining KONAMI Europe in 2013 I was well-known within the Yu-Gi-Oh! TRADING CARD GAME community as a semi-professional player, blogger, reporter and gameplay expert. From 2010 to 2013 I worked with KONAMI on a freelance basis, primarily as a writer.
I moved to the UK in 2013 as part of a new team which would oversee and develop all activity in Europe, the Middle East, Africa and Oceania. Throughout my time at KONAMI Europe I worked on a wide variety of projects, including but not limited to the following:


• Event branding
• Graphic design
• Marketing coordination
• Community management
• Esports broadcasting coordination
• Influencer sourcing and management
• Web development and content publication
• Social media management and development
• Sourcing and development of writers and commentators
• Submission of various asset and activity concepts to licencors
• Liaison with external production, PR and event management partners
• Liaison with European, American and Japanese KONAMI branch colleagues
• Promotion of over 150 Yu-Gi-Oh! TRADING CARD GAME product releases to a global audience
After working on the Yu-Gi-Oh! TRADING CARD GAME brand for 10 years I left KONAMI Europe in 2019 to pursue a career in motorsport, feeling great pride in what I accomplished and in the team I had worked with.
Publication of content and redesign of yugioh-card.com
My main accomplishment at KONAMI Europe was the management and development of the game's official website, yugioh-card.com. 
I was responsible for the site's European, Middle-Eastern, African and Oceanic areas, which covered 5 languages and 6 subdomains:
New content was published or updated on yugioh-card.com on a daily basis, resulting in around 2,400 pages being published over a 6 year period. This consisted of news articles, press releases, tournament information, product details and educational content for new players.
Some content was self-written, others published in line with what our colleagues in America and Japan were doing on their platforms for similar products. Translated and localised versions were provided by European branch offices and external partners.
In 2015 I overhauled the visual design of yugioh-card.com on the domains I managed, images of which can be seen below in comparison to what I inherited in 2013. From that point onward I also developed all visual assets for the site, including banners, headers and various UI elements, as well as the site's overall layout.
In addition to this I lead the development coordination of the site's backend, liaising with my Japanese colleagues to transition the site from a pure HTML/FTP-based solution to one that utilises various content management systems, including Wordpress. Work on this was completed in 2017. The end result was a vast improvement in the quality, quantity and timeliness of news updates and announcements, and better support for multi-language posting.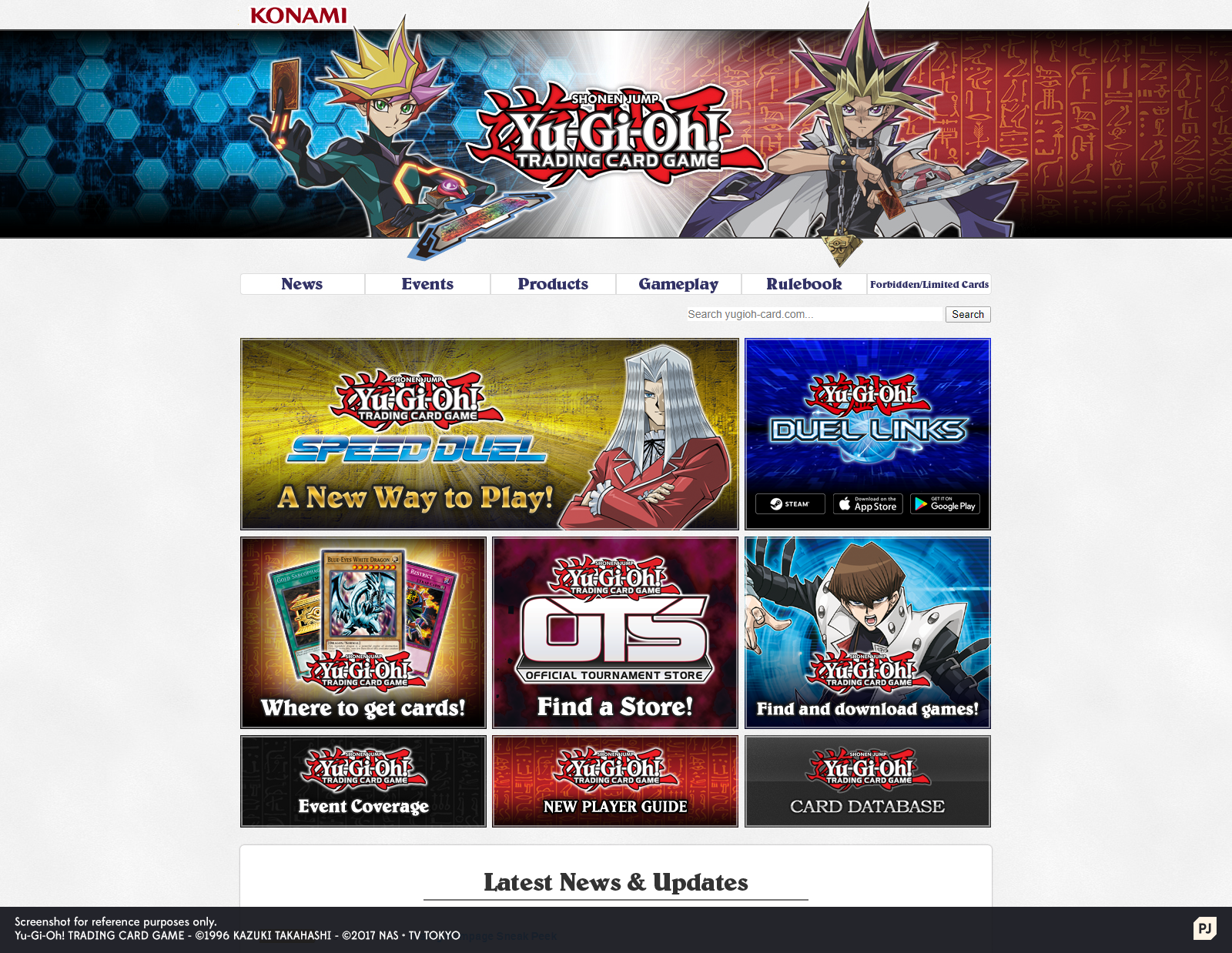 Coordination and development of tournament coverage and live broadcasts
Another major aspect of my job was to coordinate and develop KONAMI Europe's coverage of high-level tournaments across its territories. 
In the years leading up to my employment I was a freelance reporter at various tournaments across Europe, providing live-blogging and updates to a global audience. Once joining KONAMI Europe I took lead on this activity, developing future writers, commentators and other talent, as well as defining the content strategy and story focus of each event.
From 2014 onwards major events were broadcasted online, initially on Twitch but then simultaneously to YouTube and Facebook in the years that followed. I managed the transition from a heavily written focus towards video, ensuring our content reached as wide an audience as possible. In Europe livestreaming began to form a major part of promotion for these tournaments, and attendances rose dramatically with upwards of 2,000 players travelling to compete.
Once livestreaming was established as the way to report on these events I worked with our external media and production partners to develop the content package, with the focus on keeping viewer attention high during intermissions through pre-recorded content. I also took the lead on the visual branding of these shows, creating the on-screen overlays, thumbnail templates and stage graphics. These went though several iterations as new technologies were added to the broadcast experience.
By the time my work at KONAMI Europe was complete our event coverage was seen as a standard-bearer in the trading card game industry, receiving significant praise from Yu-Gi-Oh! TRADING CARD GAME fans worldwide.
Throughout my time at KONAMI Europe I was involved in the development of over 20 official Game Mats (ie: playing surfaces), the majority of which were awarded as prizes at various Organised Play activities, tournaments and events. Some Game Mats were produced for wide use across our territories, while others were created as high-value reward items in limited quantities.
The scope of work required for each of these varied based on the item's purpose and the availability of assets. Some designs were a simple adaptation of an already-existing product or card artwork, while others required painting an extension of card backgrounds to fill the canvas. 
A small number of designs also required entirely original backgrounds, which were either painted from scratch or significantly extended the visible area compared to what's shown on a printed card.
All character illustrations were supplied by our Japanese and American colleagues, and are the same as those used on the cards that people purchase and play with.
Social media implementation and development
From 2015 onwards I handled the creation and development of the Yu-Gi-Oh! TRADING CARD GAME social media channels. This involved creation of content calendars, writing copy, creating assets and developing activities to drive organic reach and engagement. 
Facebook and YouTube channels were created in 2015, Instagram and Twitter in 2018. Twitch was already a part of tournament coverage since 2014. The key challenge in each was balancing what types of activities worked for a Western audience compared to what activities were expected of and approved for use by Japanese licencors, who are used to a different social media landscape and best practices.
Throughout my time on these channels and with the help of our external media partners they achieved high organic growth and engagement levels. Over 180,000 followers were gained across Twitter, Facebook, Instagram, Twitch and YouTube, almost entirely through organic growth.
Two notable pillars of content I came up with were card galleries and Card of the Day. 
The Yu-Gi-Oh! TRADING CARD GAME contains over 10,000 unique card designs, expanding by several hundred each year. I leveraged this large database by a creating an image format that could easily adapt to any card release. With the help of some basic automation processes it was possible to create hundreds of unique images for social media in a very short space of time, which would then be scheduled for daily uploads. 
By developing user habits to visit these profiles every day, it ensures a larger organic audience for the days when special announcements are made, amplifying their message organically. On the release day of each product a full gallery would be hosted on Facebook, showing potential customers everything that they could find in their packs. 
With just the existing cardpool at play, Card of the Day currently provides enough daily social media content for the next 27 years, although with new cards being released on a bi-weekly basis this content pool is theoretically infinite and can last well beyond the game's lifetime.